Model 2002
The Model 2002 DME System is a state of the art, multifunction data collection and analysis system. It is suitable for application in an electrical utility substation or plant environment to produce Sequence of Event (SER), Digital Fault Recorder (DFR), Dynamic Disturbance Recorder (DDR), and Continuous Recorder data in conformance with PRC-002-1 and PRC-018-1. All data recorded by the DME system is stored in IEEE C37.111 format and named in conformance with IEEE C37.232. The system also has a software option to enable the Phasor Measurement Unit (PMU) feature to provide streaming data in conformance with IEEE C37.118.
The Model 2002 uses, as the DME Master Station, an industrial grade fanless computer running Windows Embedded Standard 7 (WES7) as its operating system. This combination provides highly reliable operation and low maintenance cost.
The standard Fault Location feature automatically determines information such as faulted line, fault type, duration and distance to fault which are displayed at the recorder and can be automatically transferred to the Master Station or to SCADA via DNP3.
The USIMaster (DAS)© application is included in the purchase of each DME system and runs on any computer running Windows 95 through Server 2012 operating system. The master station analysis software is also loaded on the DME computer so fault analysis can be performed at the substation.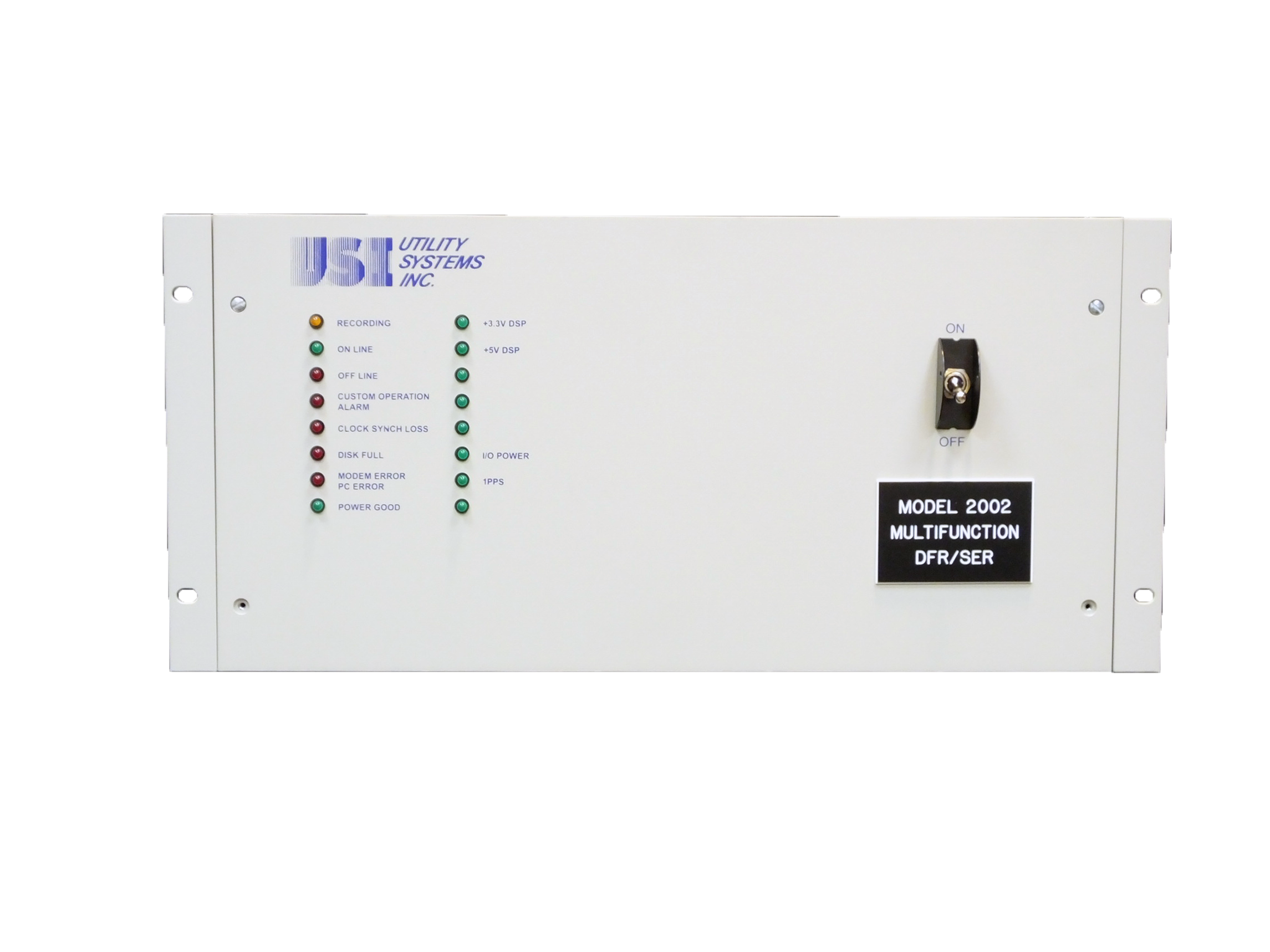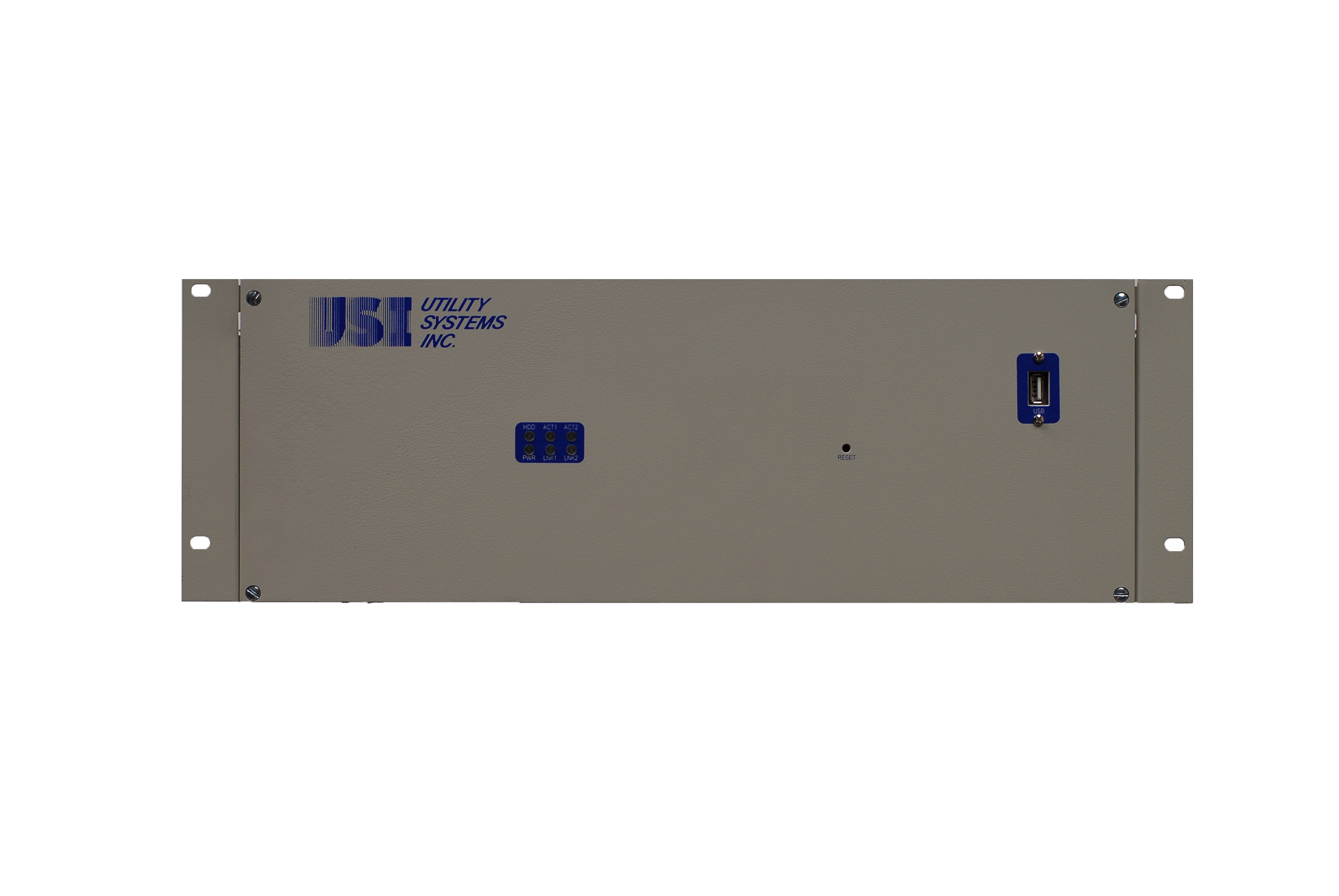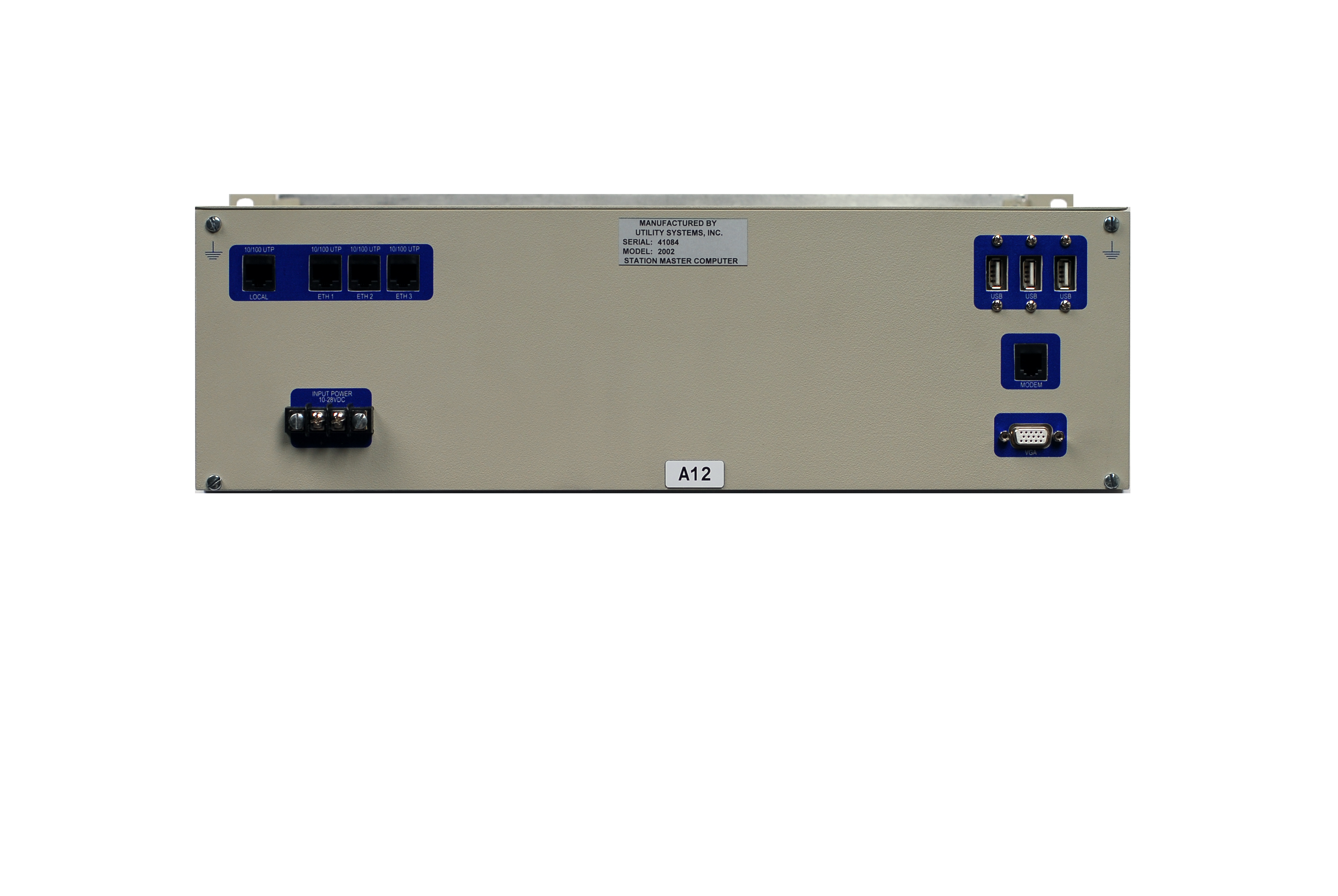 Model 2002 DME System Technical Specifications
Computer:
Construction: Industrial Grade Fanless Controller
Operating Temperature: -40 ~ 70°C
Processor: Intel® Core™ i5
Ethernet: 2 - Controllers (10/100/1000Mb), 1 - Fiber (Optional)
RAM: 4GB DDR3
Storage: 64GB SSD (for OS & Software), 1000GB HDD for Data (SSD Optional)
Modem: 56kb Internal
Analog Inputs:
Quantity: 8 - 128 (multiples of eight)
Universal Input Type: AC or DC, Volt or Ampere (Internal Shunt), Transducer, External Shunt, Split/Solid-core CT
Resolution: 16 bit
Bandwidth: DC to 4.7kHz
Temperature Drift: 60ppm/°C
Linearity: 0.01% of Full Scale Typical
Isolation: 2000Vrms channel to channel; 2000Vrms channel to ground
Voltage: 1.5Vrms - 400Vrms
Accuracy: 0.01% of Reading + 0.005% of Full Scale
Input Impedance: - V1 (41-400Vrms Range) Input = 222kΩ
- V2 (1.5-40Vrms Range) Input = 22kΩ
Current: 200Arms for 2 seconds - 15Arms Continuous
Accuracy: 0.25% of Reading + 0.005% of Full Scale
Input Impedance: Internal shunt = 0.008Ω
Trigger Sensors: - RMS, Frequency, Harmonic, THD, Sequence (+/-/0), Watts, VAR
- Over, Under, or Either
- Rate of Change
Digital Inputs:
Quantity: 32 to 512 in multiples of 32 (>512 when less than 128 analog inputs)
Function: DFR, SER, or Both
Input Range: 40VDC - 250VDC
Current Draw: 2mA
Isolation: 2000Vrms channel to channel; 2000Vrms channel to ground
Trigger Sensors: Normal to Abnormal, Abnormal to Normal, or Either
Time Sync:
IRIG-B (Modulated) <1 millisecond
IRIG-B (Un-modulated) <1 microsecond
Alarm Outputs: Triggered, On Line, Off Line, Clock Sync Loss, Disk Full, PC Health, Power
POWER SUPPLY:
(Nominal Input Voltage - Acceptable Input Voltage Range:
48VDC 36-75VDC
125VDC 66-154VDC
250VDC 100-375VDC
Environment:
Temperature 0 - 55°C
Humidity up to 90% non-condensing
Recording:
Digital Fault Recorder (DFR):
Sample Frequencies: 2400, 3840, 4800, 6000, 9600, 12000, 19200, or 24000Hz
Prefault: 100 - 9999 milliseconds
Postfault: 100 - 9999 milliseconds
Fault Limit: 100 - 9999 milliseconds
Maximum Record Length: 40 seconds @ 24kHz Sample Frequency
Data Format: COMTRADE (IEEE-C37-111)
Data File Naming Convention: COMTRADE (IEEE-C37-232)

Sequence of Event Recorder (SER):

Sample Frequencies: 2400, 3840, 4800, 6000, 9600, 12000, 19200, or 24000Hz
Filter: Debounce
Data Format: ASCII/TEXT (Comma Delimited)

Dynamic Disturbance Recorder (DDR):

Sample Frequencies: 240, 300, 480, 600, 960, 1200, or 2400Hz

Record Lengths:

Prefault 10 - 990 seconds
Postfault 10 - 990 seconds
Fault Limit 10 - 990 seconds
Maximum Record Length 33 minutes
Trigger Sensors: - RMS, Frequency, Harmonic, THD, Sequence (+/-/0), Watts, VAR - Over, Under, or Either - Rate of Change
Data Format: COMTRADE (IEEE-C37-111)
Data File Naming Convention: COMTRADE (IEEE-C37-232)

Continuous Recorder (CR):

Sampled Data:

Sample Frequencies: 240, 300, 480, 600, 960, 1200, or 2400Hz
Maximum Record Length 5 days (all channels)

Calculated Values:

Values Recorded: Frequency, Phase, and RMS
Maximum Record Frequencies: 60Hz per channel
Maximum Record Length 90 days (all channels)
Data Format: COMTRADE (IEEE-C37-111)
Data File Naming Convention: COMTRADE (IEEE-C37-232)

Options:

Phasor Measurement Unit (PMU):
Compliance: IEEE C37.118 (2005)
Phasors: - Analog (Discreet Phasor for All DFR Inputs - up to 128A)
- Positive Sequence Phasor for any 3-Phase Voltage or Current
- Digital (All DFR Inputs Can Be Included in the Data Stream)
Sampling: All Phasor Estimates Calculated from 4.8kHz
Data Frame Rate: 10Hz, 15Hz, 20Hz, 30Hz, 60Hz
NERC-CIP Package Optional Upgrade